ISNetworld® Safety Programs
If you need safety programs for ISNetworld®**, our self-service software allows you to custom build and maintain your ISNetworld® compliant written program with ease.
Configured to your Specification
After completing your purchase, you can immediately start compiling your custom ISNetworld® safety program by selecting from over 300 compliant topics. Quickly find the content you need using our filter and search functions.
As soon as you're done selecting your written programs and you have added your company name and logo, our system will automatically compile your customized content in PDF format, ready for immediate use.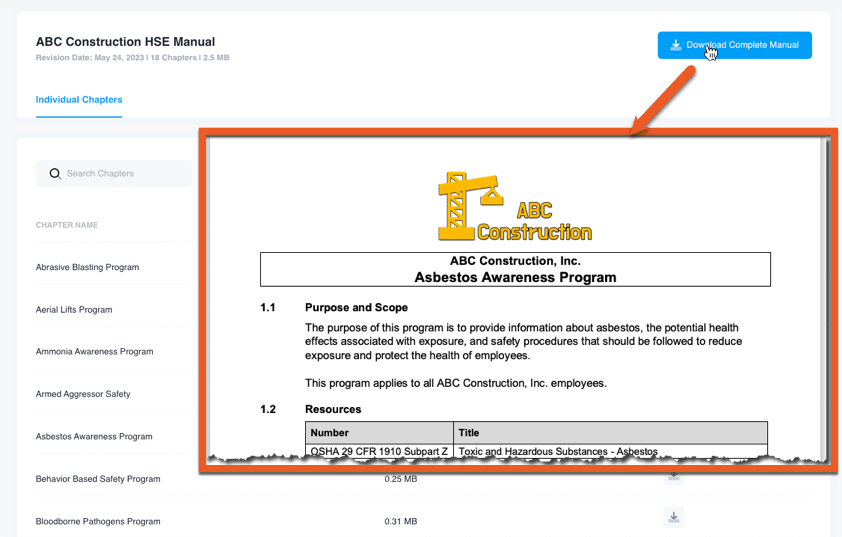 Easy Upload and Verification
Safety Procedure Systems automatically generates each written program you select as individual PDF files, fully customized with your branding and configuration settings and ready to go for easy upload and verification in ISNetworld RAVS®.
As you're linked to new clients in ISN® or your existing client's needs change, so will your written program requirements. With Safety Procedure Systems, you can instantly add, remove or reorganize the chapters in your safety manual with just a few clicks. Your updated selections are re-compiled on-demand, ready to go again in minutes.
Custom HSE Program
+ access to training documents and forms
includes updates for a year
"Getting our safety manual together was a breeze with this platform. It saved us time and gave us peace of mind. I would highly recommend this to any company needing a quick and reliable safety solution."
"With the variety of pre-written programs, we could build an HSE program that was completely tailored to our business. This was a total game-changer for our safety program."
Why Safety Procedure Systems?